Saints will look to bounce back from a rude jarring of their collective ego when they host Huddersfield Giants in a BetFred Super League Round 12 meeting on Friday night (April 20, kick-off 8.00pm).
Justin Holbrook's side suffered only their second loss in 11 league outings in 2018 when they went down 24-20 at Wakefield Trinity last Sunday (April 15). The result has since prompted much wailing and gnashing of teeth from the fans who rounded on portly whistle-blower and hate figure of the week Gareth Hewer. Yet the ugly truth is that Hewer got the two big decisions right, neglecting to award a penalty try when Jonny Lomax was in the vicinity of the try-line and then inviting Mark Percival to sit down for 10 minutes for a petulant bout of gum-flapping after he was obstructed on his way to never in a million years reaching his own kick through.
Percival has paid for that unwelcome expression of his opinion with a one-match suspension and so sits out this one. And that is not all. Saints will also be without the talismanic James Roby, longer term absentees Alex Walmsley and Adam Swift as well as Zeb Taia. The former Catalans man is replaced in the squad by James Bentley, a pre-season signing from Bradford Bulls who has yet to see the light of day in a Saints shirt but of whom big things are expected. Taia's absence offers a real opportunity for Holbrook to back up comments earlier in the season about giving youth an opportunity but there is still the possibility that he will move Jon Wilkin into the second row to play alongside in-form Dominique Peyroux and promote Morgan Knowles off the bench to start at 13.
The props should remain unaltered with new pack leader Luke Thompson joined by the over-achieving Luke Douglas, Kyle Amor and Louie McCarthy-Scarsbrook in the rotation, while either Matty Smith or Theo Fages will take Roby's hooking role. Smith started at Wakefield but there was a feeling that the speed of Saints game went up a notch or three when Fages joined the action. However, that is not to say that Fages should automatically start ahead of Smith. It may be that Fages injection of pace was aided by the fact that he was introduced against tired bodies later in the game and that Smith's steady presence will be required early on. Along with Bentley, Jack Ashworth makes the 19 and could come into contention in the pack as well as Matty Lees who again finds himself required for first team duty but faces another disappointing omission from the final 17.
What to do about the backs then in Percival and Swift's absences? Matty Costello retains his place in the 19-man squad and Holbrook has said publicly that it is likely that the youngster will get a run at centre. Whether this will be as a direct replacement for Percival on the left inside of Regan Grace is unknown. Ryan Morgan may swap sides to allow Costello to operate on Saints less busy right hand edge inside of Tommy Makinson. If Holbrook has a change of heart and decides that Costello is not ready for his Super League debut then other options include Lomax, who has played in the centres in emergencies already this term, and Peyroux who joined the club as a centre before finding his best rugby in the second row. The three-quarter line will of course have the luxury of playing in front of the incomparable Ben Barba, who might just beat a banged up Huddersfield team by himself should the mood take him.
Among the absentees for the still coachless Giants are fullback Jake Mamo, England winger Jermaine McGilvary, centre Leroy Cudjoe and the suspended Danny Brough. The latter talked his way into trouble during last week's 30-12 home defeat to Salford Red Devils and has picked up a three-game ban. Brough was sent off for channelling his inner Percy and gobbing off, this time at a touch judge, and will miss matches against Saints, Warrington and Widnes. Jordan Rankin could step into the fullback role vacated by Mamo, while Innes Senior and Darnell McIntosh operated on the wings against Ian Watson's side last time out. Former Saint Jordan Turner looks set for a centre berth alongside Aaron Murphy while Brough's absence gives caretaker coach Chris Thorman a bit of a headache in the halves. Lee Gaskell is another ex-Saint who should feature there but whoever ends up in Brough's scrum-half role is likely to be inexperienced, playing out of position or both.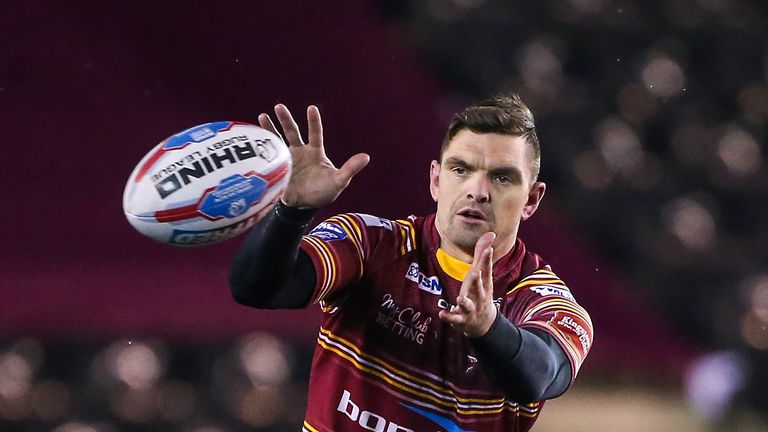 The pack looks a little stronger with Sebastine Ikahihifo, Shannon Wakeman and Ryan Hinchcliffe leading the way. Oliver Roberts, Ukuma Ta'ai and Daniel Smith should all feature with Kruise Leeming operating from dummy half. Paul Clough is another who used to earn his living in the red vee and he may start at prop.
In contrast to Saints fast start the Giants have struggled throughout 2018 so far, winning only 2 of their first 11, and having to cope with the upheaval of the sacking of head coach Rick Stone. This side can sometimes be so bad that it loses to Catalans Dragons, a side which you would fully expect to be soundly beaten by the Whipping Boys Select XIII should such a team ever exist and their paths ever cross. It is insanely difficult to see anything but a Saints win even without a few first team regulars, such is the relative depth of the two squads.
The teams have already met once this season, Saints earning a 26-12 success at the John Smith's Stadium on a cold night in February of the kind that used to decide titles, but now just makes you wonder whether it might not be more pertinent to start the season in April. The Giants had a lot of possession in the first half in that one but even with Brough and company on the field they could not convert that into points against a resolute Saints defence. Without the Scotland halfback and the classy McGilvary it is going to be even more challenging for the Giants who should be handled by a margin somewhere around the 20-point mark.
Squads;
St Helens;
1. Jonny Lomax, 2. Tommy Makinson, 3. Ryan Morgan, 6. Theo Fages, 7. Matty Smith, 10. Kyle Amor, 12. Jon Wilkin, 13. Louie McCarthy-Scarsbrook, 14. Luke Douglas, 15. Morgan Knowles, 16. Luke Thompson, 17. Dom Peyroux, 18. Danny Richardson, 19. Regan Grace, 20. Matty Lees, 21. Jack Ashworth, 23. Ben Barba, 24. James Bentley, 30. Matty Costello
Huddersfield Giants;
4. Jordan Turner, 5. Aaron Murphy, 6. Lee Gaskell, 8. Sebastine Ikahihifo, 9. Kruise Leeming, 10. Shannon Wakeman, 13. Ryan Hinchcliffe, 15. Jordan Rankin, 16. Oliver Roberts, 17. Ukuma Ta'ai, 18. Paul Clough, 19. Daniel Smith, 20. Adam Walne, 22. Alex Mellor, 23. Darnell McIntosh, 24. Tyler Dickinson, 25. Corlton Roche, 26. Sam Wood, 33. Innes Senior.
Referee: Scott Mikalauskas