After yesterday's strabilious entry let's try to raise the mood a little. I've been to London again. Among my many failings as a human being my regular trips to the capital have become a bit of a running joke in the office. This was the fourth time this year that we have travelled down there for one reason or another, which almost makes it like a second home. I've been to London so often that I now understand how to use the tube.
The reason for this trip was the Four Nations game between England and Australia at what we now apparently have to refer to as the London Stadium. Basically what they mean is the Olympic Stadium at Queen Elizabeth Olympic Park in Stratford. Scene of Super Saturday in 2012 and now entirely soulless den of disarray rented out on the cheap by West Ham United. And us the taxpayer. On which subject, if West Ham's results don't improve soon I think we should all contact Her Maj and enquire about some sort of rebate. We're not getting value for money from them.
With the game on Sunday we travelled down on the Saturday. The plan was to meet Roland and Susan and do…well…..something. Originally the idea of Tower Bridge surfaced but the weather on the day is dismal. I don't want to do anything outdoorsy. Outdoorsy is really a word in as far as Word has not corrected or underlined it. Who'd have thought? Anyway I hate doing anything outdoorsy in the rain, unless it is watching Saints which is absolutely necessary. I don't fancy traipsing (also a real word although I thought only my mum ever used it) around London collecting mud around my midrift. Midrift is not a word, according to Word. Funny thing the English language, especially when it is butchered by an American word processing programme.
Happily Emma agrees, and so we take the decision to just go to the pub. It takes four and a half hours to get to the hotel (Tunes again, cheap and cheerful but do bring your own kettle and milk) during which Colin Murray presents every single minute of airtime on Five Live as if he is involved in some kind of charity Radiothon. Radiothon is not a word. Colin Murray used to annoy me, but now I have significantly more time for him on account of his decision to leave right-wing bigot platform Talksport due to their association with The Sun newspaper. Despite the extensive journey time the rooms are not ready when we arrive. At the same point, I find out about the passing of my granddad (which we covered yesterday and will not dwell on here) so it seems somehow appropriate to just forget about any other plans and just hit the pub.
We take the D3 bus from just around the corner from Tunes at Canary Wharf. Access fans will be enthused to learn that the D3 has both a ramp and a driver who can be arsed to operate it. We have a particular pub in mind, the Prospect of Whitby in Wapping. This is a place notable for the noose which hangs from the roof around the back. Yet the first thing I notice when we go in through the front is a bloody Christmas tree. It's November 12. I'm sorry but I really can't get on with this sort of thing. I'll spare you the rant about how Christmas is forced fun based on kookie, made up religious clap-trap, but I am sure even you will agree with me that November 12 is too early to be putting up your Christmas tree and decorations. It isn't just the tree. There is holly, tinsel and what can only be described as baubles all over the place. And yet it doesn't feel like Christmas. It feels like what it is, a normal, cold and damp Saturday afternoon in Wapping, London.
The only downside to the D3 is the time it takes to get from Canary Wharf to Wapping in Saturday afternoon traffic. It is supposed to take around 13 minutes but is more like 40-45. London is rammed with people going absolutely bloody nowhere. Christmas shopping no doubt. Rammed is not a word. Still, it's early so there's still plenty of drinking time.
Which is exactly what we do for the next five hours, before heading back to Canary Wharf (on another D3 which also has a ramp and a driver who can be arsed to operate it and takes significantly less time in Saturday evening traffic). Having not eaten since we stopped on the way down at Hilton Park we decide to go for a meal at one of the row of restaurants on West India Quay. Someone, I don't know who, chooses Rum & Sugar which is a pretty good choice as it turns out. I have something called Jerk Chicken, which Emma doesn't think I'll like but which is really quite good. A bit spicy perhaps, but I don't really mind that.
We meet for breakfast on Sunday morning at the Wetherspoons across the road from Tunes. No matter how many times I visit this place I can never remember its proper name. All Wetherspoons pubs have a proper name, more like a pub name. The two in St Helens, for example, are called the Running Horses and the Glass House. Google has just informed me that the one we have breakfast in on Sunday morning is called the Ledger Building. A pretty unremarkable name which offers some insight into why I never remember it perhaps. But a Wetherspoons brekkie is a Wetherspoons brekkie, even if it does cost a little more in this part of the world. It is of course my duty to report that access is not exactly world class at the Ledger Building. Good luck getting in there if you are a wheelchair user on your own. There is a set of steps outside the building and you can only get in if you have someone with you to go inside and ask them to come out and put the temporary ramp up. This is not ideal, but is a step up from the efforts of the staff at Wetherspoons in Trafalgar Square. They don't have a ramp, but if you want a pre-pubescent young fellow will come outside and try to force a stretcher to serve the same purpose. Which it cannot.
After breakfast Emma and I go our separate ways from Roland and Susan. They are not coming to the game and are instead either going to the Cenotaph (it's Remembrance Sunday today) or getting the train back home. It's only an hour for them. You can tell it is Remembrance Sunday because the past week has seen the media report nothing other than another instalment of the tedious, annual poppy row. Yes people should be able to wear a poppy to remember the fallen if they wish, no they should not be forced to do so if they don't want to. Why are we still arguing about this? Principally because FIFA, that bastion of morality and new entry on the FBI's most wanted, has spent much of its time recently telling everyone that the poppy is a political symbol and political symbols are not allowed in football. Calling the referee a cunt, is, however. In any case, the poppy is not a political symbol but a symbol of remembrance in this context. Other cultures may not see it that way but so bloody what? People just fall over themselves to be offended these days. England are due to play Scotland in a World Cup Qualifier next weekend and FIFA has forbidden both sets of players from wearing a poppy on their shirts. As a fudged compromise, the English and Scottish FA's have declared that they will wear black armbands with poppies emblazoned upon them. Two questions. What's the difference and why don't they just go ahead and wear the poppy on the shirt and cop whatever fine FIFA decides to slap them with? Football is awash with money as we know. Just do what you think is right and accept the consequences…
We get the DLR (Docklands Light Railway) to Stratford. It's only a few stops from West India Quay, is less busy and involves less walking/pushing than would be the case if we took the tube from Canary Wharf. I can't tell you if there is a price difference because the policy is to just tap in with our debit cards at every station we go to and then wait for the bank statement to come. Everyone does exactly that, although the locals probably tap in with the knowledge of exactly how much it costs since they are more regular users. Besides they probably have Oyster cards, which apparently can get you into anywhere including Willy Wonka's Chocolate Factory.
Last year we came here to watch England play New Zealand, and I remember having to push through the shopping centre to get to the stadium. Things are slightly different this time around. Those heading to the stadium are directed away from the shopping centre, presumably because they don't want so many people in there at once in addition to the regular shoppers that a normal Sunday (and remember it is Christmas in London) would attract. But I need to top up my phone. How else am I going to let everyone know on social media that I am at the Olympic Stadium? How else am I going to take the obligatory stadium selfie? It is surprising how many shops you can pass in a custom built shopping mall without ever finding one which might even look like it can offer mobile phone top-ups. In the end I go to a cash machine and do it that way. Consequently, we have to walk all the way back out of the shopping centre and around the diversion that has been created to separate match-goers from shoppers. It's like driving to Barrow.
Even then we are nowhere near the stadium. Had we got off the DLR at Pudding Mill Lane we probably would have been closer than we are now at Stratford. There are more lifts to negotiate and an endless road at the end of which you can see the stadium, all decked out in claret and blue now, which seems to somehow get further and further away from you the more you move towards it. Finally we get to Gate F and are greeted by a volunteer, dressed in blue to distinguish him from the yellow-clad stewards. The difference appears to be that the people in yellow are getting paid to stand around being unhelpful, whereas the guy in blue is overbearingly helpful purely out of the goodness of his heart. As soon as he lays eyes on me he crouches down in the manner you would if you were about to greet a four-year-old;
"Hiya." he says, in the kind of voice that said four-year-old would just tut at and walk by;
"How are you today?" he asks, still crouching.
I give him my best Edmund Blackadder eye-roll and inform him in the most adult voice I can muster that I am fine, the implication being that he doesn't have to talk to me as if we are discussing an episode of The Tweenies;
"Where are you from?" he asks.
"St Helens." I answer, and he looks at me blankly, either because he is gobsmacked that Emma hasn't answered the question for me or, as I suspect, because he doesn't have a clue what or where St Helens is. Which would be about right. He's volunteering at a rugby league event and he has no idea what or where St Helens is. St Helens is not a particularly famous place, but if you have even a basic knowledge of English rugby league then you would at least have heard of it, even if you couldn't find it on a map. Anyone who read yesterday would remember that I know about dates because of sports events, I also know about geography because of sport. My entire knowledge of American geography is based on the NFL. Clearly this volunteer hasn't cottoned on to this idea, which he might have thought about doing once he had put his hand up for duty. Poor.
Typically the block we are sitting in is fully 15 blocks from the entrance we are directed to use by the overbearing volunteer who doesn't know what or where St Helens is. Evidently he doesn't know much about this stadium's geography either. It takes another three minutes to get to our seats. Handily, as we head towards them there is a man at a small kiosk selling lager which is not as unreasonably priced as I'd expected. This being London, and this being a stadium I was fully expecting to fork out over £6.00 for a beer and so £4.90 feels like a bargain. Brexiteers will probably claim this is as a victory but it is more likely that the organisers didn't sell much beer to northern folk at last year's prices and learned their lesson. I remember one Yorkshireman entering the stadium last year, seeing the price of a beer at the first kiosk he came to before muttering an expletive and walking away. That was the general feeling last year, I think. Whatever the price was I paid it but then I'm a Carey and Careys are reckless. We know we're not taking it with us.
Yesterday's damp and miserable weather has given way to bright sunshine. That sounds nice, and it is, except that the sun is peering over the top of the stand on the opposite side of the stadium and is right in my eye-line. I have to resort to shades in mid-November. First it was Christmas, now it's fucking shades. I looked a little something like this. I can only apologise for the nose hair;
https://scontent.xx.fbcdn.net/v/t1.0-9/15095575_10154548646396224_3393677107652836346_n.jpg?oh=eaf76432858136c0c9f6ac186e8cbec9&oe=58CCEB98
The glare of the sun makes it impossible to get a decent photograph of the teams as they come out before kick-off. Instead I just sit in silence through the formalities, many of which involve silence anyway given that this is Remembrance Sunday. The exception to this is two performances by rugby league's ubiquitous go-to songstress Lizzie Jones, wife of the late Danny Jones who tragically died of a heart condition during a Keighley Cougars game a couple of years ago. Lizzie has spent the time since doing nothing but good for the cause and, to be fair, she can belt out a tune. She leaves the rendition of the Australian national anthem to someone else whose name completely escapes me, but then she hasn't appeared at every rugby league related event over the last two years so my forgetting her name can surely be excused.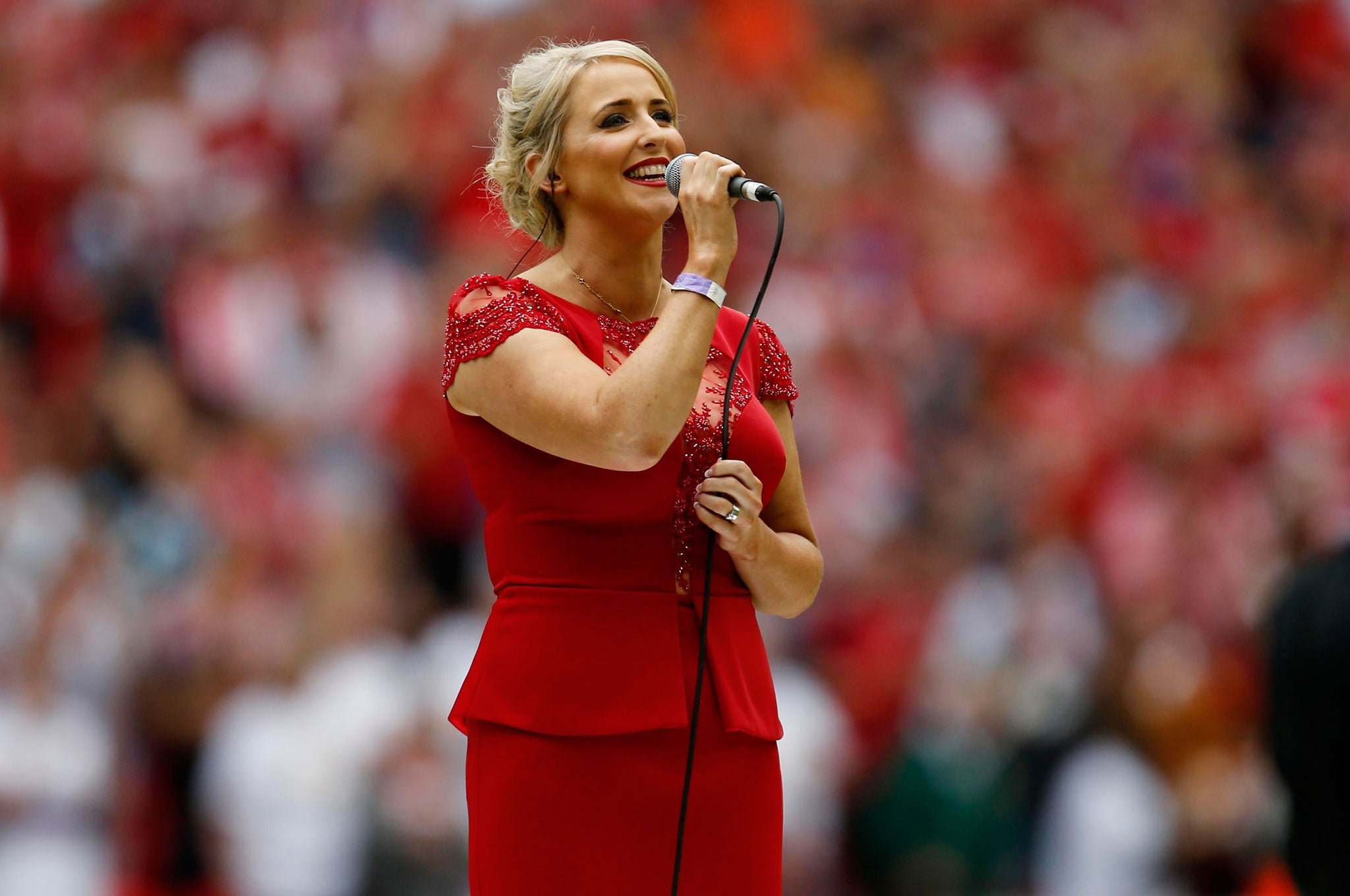 And so to the game. England need to avoid defeat to qualify for next weekend's Four Nations final at Anfield, which the Australians are already certain to appear in thanks to New Zealand's baffling inability to beat Scotland on Friday night at Workington. Still, it's England v Australia so the Aussies are not going to give up anything easily. England score the first try in a tight first half, Jermaine McGillvary going over in the right hand corner just in front of us after Jonny Lomax's pass. But that's really about as good as it gets for England, who are pegged back by Blake Ferguson's try, before a Jonathan Thurston penalty pushes them out into a 10-6 half-time lead. Then it's a case of blink and you'll miss it as the Aussies run in three quick tries after half-time. Sam Burgess could have notched the first score of the second half had he been able to take Josh Hodgson's distinctly forward looking pass close to the line but instead Greg Inglis, Matt Scott and Josh Dugan cross for Mal Meninga's side as they cruise to a 28-6 lead. Game over. All she wrote. In a very English manner Wayne Bennett's side open up once the game has gone, Gareth Widdop and Ryan Hall crossing for tries but even then they cannot shut the back door as Matt Gillett and the superbly named Valentine Holmes also grab four-pointers to complete a 36-18 win.
Anyway, Ryan Hall. Let's talk about Ryan Hall. He crossed for his 31st try in as many England appearances and, while he doesn't have a bad game, I still think he is the most over-rated rugby league player in the history of the game. For me he encapsulates much of what is wrong with the game at the moment. He's a second row forward playing on the wing. He can finish like a winger as his try-scoring record will attest, but ask him to go the length of the field when given a yard in the style of a Martin Offiah or an Anthony Sullivan and he is as likely to do so as I am to appear on the couch with Susanna Reid tomorrow morning. Who wouldn't want to appear on the couch with Susanna Reid? Probably a bit early for me but I'd make the effort.
So where were we? Hall. He's not helped by Mark Percival's unconvincing, wobbly performance alongside him at left centre, but as I say it is more about what wingers like him mean for the game as a spectacle than any personal failings on his behalf. This game, although it featured seven tries (which in union would be cause for cork-popping and pats on the back all around) was not much of a spectacle. Style-wise, it was not that much different from some of the turgid affairs I have endured during the last few years as a season ticket holder at Saints. Love of the game keeps me going, allied to hope that this is all cyclical and that the more open, entertaining approach of years gone by will soon come back into fashion. But really what we are witnessing these days, and what we witnessed here in London is The Grind on fast forward.
This Australian team is extremely good, don't get me wrong. But they don't throw it about like the Harlem Globetrotters. They just make good decisions in the halves and through Cameron Smith at hooker. Bennett, on the other hand, does not even know what his best halfback combination is having brought in Widnes' Kevin Brown to start this one, his first international start since rugby league was entertaining to watch some time in the mid 1970's. In bringing back Brown (try saying that when you have had a few at the Prospect Of Fucking Whitby) Bennett (and that) has seemingly jettisoned Castleford's Luke Gale who, in the eyes of many, was the best halfback in Super League in 2016. Even when Brown was dragged from the field late on it was not Gale but George Williams who took his place (Gale having missed out on the match day squad altogether). Williams looked lively but the game had well gone by the time he was introduced. Meanwhile, all Bennett has to say for himself following another high profile loss by the English against Australia is that we need to learn how to win and that we should have more belief in ourselves. Which strikes me as his job to instil, unless I am missing something. Bennett has won every conceivable honour at club and international level in his several million years in the coaching game, but his impact on this England team has so far been minimal. However, it has only been three games and how much improvement was he ever likely to produce in such a short period of time? If both he and the RFL want it then I suspect his leadership of the England side will continue on to the World Cup in Australia at the end of next year but frankly, he must do better.
At the end we foolishly try to find our way to Pudding Mill Lane DLR station and are advised by the police and stewards that we should carry on to Stratford with the crowds because it will be 'better for the wheelchair'. Like the wheelchair gives a fuck. Anyway it isn't. It takes an age to get through the masses of people all heading in the same direction at the same time. At one point Emma suggests that she is never going to this stadium again, which is a conversation for two years time since next year there will be no home Four Nations tournament due to the aforementioned World Cup in Australia. Thirty-five thousand might not be a wildly exciting crowd for a rugby league international in a stadium which holds 54,000 (and there were huge swathes of visible claret seats over the other side from where we were sat which must have looked pretty average on television) but it is still a significant number of people to try and get on a tube train with. We get on ok, at which point we make our next mistake.
Having not eaten since the Wetherspoons breakfast we head for what we know, a pub near St.Paul's Cathedral called the Lord Raglan. This means taking the DLR to the notorious Bank station, where they deliberately shut off the lifts at weekends and you have to ask for assistance at the intercom by the gate. Because disabled people have no business going anywhere at weekends. When we get to the Lord Raglan it becomes clear that it is not only disabled people who should not bother travelling to this area at this time on a Sunday night. By 6.00 (about two minutes before we arrive) they have stopped serving food and by 7.00 they are calling last orders. Last orders! They are shutting at 7.00 on a Sunday night! We should have gone to the fucking Vine.
Devoid of any real knowledge of where to eat out in London despite our now frequent visits we decide to head back towards Canary Wharf and eat in one of the restaurants on West India Quay where we had been the previous night. We know that Browns is open until 9.30 (thanks to Google again) and that La Tasca is open until 11.30 should the situation become that desperate. In the event we make it into the former, which is perfectly pleasant and would have been more so had I not started to feel distinctly peaky after my meal. Which of course was more chicken. I start to feel bloated and I'm retching every five minutes, all of which is probably the fag end of the infection that I am seemingly permanently trying to recover from these days. Either way I can't get through any more lager and so, some time before 10.00 we rather disappointingly have to concede defeat and call it a night.