Four years ago in London paracyclist Jody Cundy threw the tantrum to end all tantrums, the wobbliest of wobblies after the C4/5 1000m time trial. His starting gate had malfunctioned causing him to slip slightly, which at this level of the sport is more than enough to leave your chances of winning in ruins. The officials refused to let Cundy restart the race at which point he began turning the air blue and throwing various liquid containers about the place. Not the most mature response, perhaps, but understandable given the enormity of a home Paralympics and the injustice he felt at missing out on a proper opportunity to compete.
Well now he's back at the Paralympics for another crack at the same event. He waits in the wings as GB team-mate Jon-Alan Butterworth takes the lead with his ride before being pushed down into bronze medal position firstly by Spain's Alfonso Cabello Llamas and then by Slovakia's Jozef Metelka. Inconveniently, if Cundy is to secure victory now it will push Butterworth out of the medals. But Cundy has a score to settle, a past to redeem, so he tears around the track to claim a new Paralympic record and so carry off his third career Paralympic gold, adding to those he won in Beijing before his London mishap.
Since I'm still playing catch-up (by the way, my Sky+ planner became so stuffed with Paralympic broadcasts that it began deleting things to make room for them all, much to Emma's absolute disgust) I haven't had chance to report a British gold medal in the athletics stadium as yet. That's all about to change now as Georgie Hermitage, having equalled the world record in her T37 100m heat, claims victory in the final. She has only been classified as a parasport athlete since 2012, making her debut the following year. As a teenager she resisted classification and became disillusioned with athletics when she began to struggle to compete with her peers. The same peers who did not have to deal with cerebral palsy. She's understandably emotional in her interview.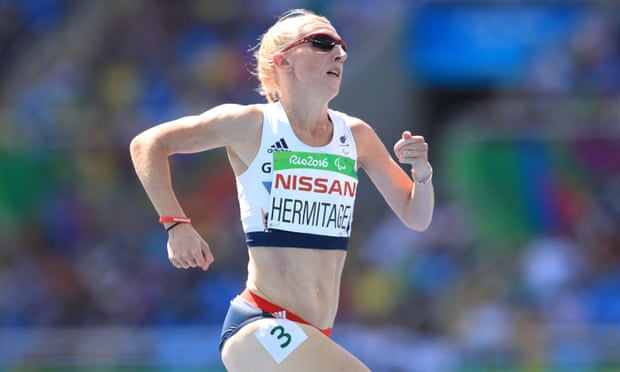 I'll spare you the clunking metaphors about London buses and just let you know that there are three British athletes in the women's T38 100m final. Two of them make it to the podium as Sophie Hahn wins the gold while multiple sclerosis sufferer Kadeena Cox (the one who if you remember will also compete in the velodrome at Rio 2016) earns a bronze medal. Their joint interview consists of what the cook kids are now calling 'bantz' about the prospect of Cox one day matching and even surpassing the achievement of new Paralympic champion Hahn. Cox says she will, and you would be a fool to disbelieve her until you consider the fact that at just 19, Hahn is six years Cox's junior. There seems every prospect that she will find herself atop the podium again in the future.
You're probably as sick as I am of all the switching between sports that Channel Four engage in, so I'm having no more truck with it. We're going to stick with the athletics for now and we'll round up the swimming a little later on. If that's ok with you? If not you can always go back to reading endless tweets on your timeline about Jeremy Corbyn. It's your call. For now we have the small matter of Libby Clegg going in the final of the T11 100m. In my last column I described how Clegg and her guide runner Chris Clarke had been disqualified and unfathomably reinstated after suggestions that Clarke had been running too far ahead of Clegg and effectively dragging the partially sighted athlete down the track. Once she is on the start line for the big one it's a coronation (providing Clarke can stay within a safe distance of her) as she romps to the title in a time of 11.96, five one hundredths of a second outside her own world record which she set in that controversy-soaked semi-final. Memoirs Of A Fire Hazard is all about the hyphens.
It's Clegg's first gold medal after picking up the silver in the T12 category in both Beijing and London. Brilliantly, Clarke quips that he is just John Terry, turning up in full kit to claim the rewards when he has had absolutely nothing to do with the win.
Also sprinting over 100m are the women's T54 class and the men's T53, featuring Mickey Bushell. Tatyana McFadden is the more recognisable name in the former event having already claimed three gold medals at London 2012 and ten medals overall in a collection which began with a bronze in Athens in 2004. Regular readers will know that I don't like to focus on the life stories of Paralympians, and that it's more about what they achieve in competition for me. But it would be remiss not to point out to anyone who is not aware that McFadden was abandoned by her mother in Leningrad in 1989. Now Russia is Russia, especially at the end of the cold war and all of that, but I can't help but be slightly sickened by the idea that a child should be abandoned seemingly because she suffers from spina bifida. Something to think about next time I am stuck behind my desk at the office feeling utterly defeated.
Happily McFadden is a special athlete, and proves it here by winning a silver medal to add to her impressive haul. China's Liu Wenjun takes gold and I'm expecting the fiercely competitive McFadden to be somewhat disappointed. Yet she claims not to be, even declaring herself happy at one point. She does, however, make reference to having suffered from a cold in recent days which sounds like a bit of an excuse. After all, if you can overcome everything she has in her time then a bit of a sniffle isn't going to get in your way.
We've seen what Bushell has had to deal with to get into the men's T53 final. The race is one barrier too many for him to pass through as he finishes down in a disappointing sixth place while the honours are taken by Canada's Brent Lakatos, husband of long jumper and Graeme Fowler favourite Stef Reid. Bushell will no doubt be feeling a little perturbed by his inability to claim a medal but when he reflects on where he could have been had things turned out differently for him he might consider that he has achieved something very special all the same. It isn't just about competing, I know that. But it isn't life or death either.
The main event on the track is the men's T44 100m final featuring Paralympic superstar Jonnie Peacock. He defends the title he won in London four years ago, finishing ahead of the strangely charismatic New Zealander Liam Malone who declares himself absolutely exhausted and still suffering from jet-lag as he yawns through his post-race interview. For his part, Peacock is infuriatingly polite and nice about everyone and everything, proving that he has the personality to match his outstanding talent. I fucking hate him.
Ok, so we can round up the swimming now. Great British legend Sascha Kindred can only finish sixth in the final of the men's S6 50m butterfly as the Chinese swimmers complete a 1-2-3, but there is better news in the women's race where the prodigious Ellie Robinson wins the gold and a Paralympic record into the bargain. There's also a bronze for Susie Rodgers in the S7 50m freestyle as she finishes behind USA's McKenzie Coan and Germany's Denise Grahl. Rodgers then gives the first of what will be a series of bonkers post-race interviews which involve a lot of arm-waving and more enthusiasm than this writer can stand to look at for more than about 20 seconds.
Still, at least she kept her language clean and didn't throw any bottles.